December 10, 2019 | No Comments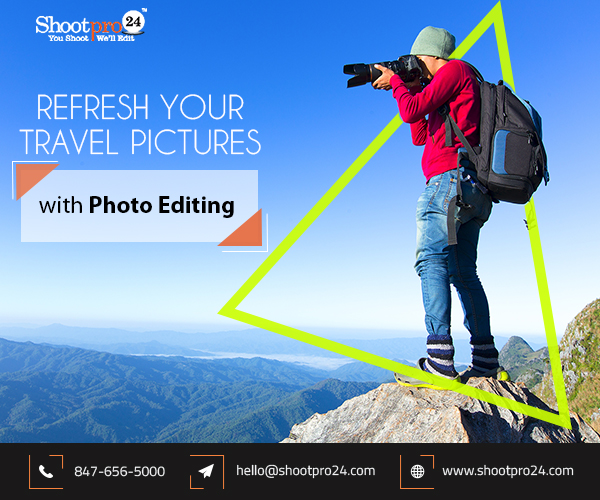 Lucky are those who can travel to distant lands and capture the essence of new places, sceneries, traditions, and cultures. Not only do travel photographers make envy-inducing memories but they preserve them in the form of captivating pictures that are worth cherishing for a lifetime. However, one pertinent question to ask is, does every click deserve a place on your computer? The reason being, your passion might make you click countless pictures but as a professional, you have to be critically reflective while choosing the best clicks. If you want your professional portfolio to boast of only quality pictures then engage photo editing services. Since your work requires you to move around, hiring professional help will end your hassle of staying indoors to edit pictures. To know what exactly you should expect from your editor, read below.
Photo editing services for dynamic and story-telling travel pictures:
1. Blemish correction
When you are documenting people, it becomes important to clear the blemishes and offer a clear view of the portrait subject. Its application can induce desirable changes in the photo background, which makes it an ideal editing tool to perfect landscape clicks as well. To get the ideal result, you must hire only qualified editors. As they have hands-on experience with several editing software, they know which application would work for your photos the best.
2. Color adjustment
Sometimes clicks may lack visual charm due to insufficient natural light. Without rushing to delete them, you can simply send them for post-production processing. The expert editors adjust the saturation, contrast and highlights to bring such insipid photographs into life. Using the color adjustment tool is tricky since over saturation can lend an unnatural look. Only the professionals of photo editing services are competent to use this technique in moderation thereby creating the desired visual effect.
3. Leveling of photos
Have you clicked pictures of a seascape? Is the irregular horizon spoiling the overall view? Hire an editor and he can fix many issues including this one. Using the lightroom leveling technique, the professional can simply adjust the grid and perfect the alignment. So, you see, the picture that you were planning to dump is restored properly by the expert of photo editing services. Another lightroom tool, vignetting can bring out the drama by lightening or darkening certain areas of the picture. An editor might as well apply it to enhance the appeal of your clicks.
4. Correct cropping
An excessive inclusion of the background can distract our focus from the main subject. For a compact frame, proper cropping is necessary. Moreover, overcropping is also not desirable as it can deprive the picture of its central idea. If it were a regular click, we would suggest you do it on your own. Since these clicks provide testimony to your skills as a professional photographer, you cannot take a chance at all. Therefore, it would be great and safe if you hired professional photo editing services.
Conclusion
This list is not exhaustive as there are many other editing tools that can amplify the quality of your travel photographs. Here we have discussed the most important editing techniques. From the basic correction to the advanced editing, a professional can offer you a range of photo editing services. To get reliable editing assistance at affordable prices, contact Shootpro24. Get in touch with us at – +1 847-656-5000 or hello@shootpro24.com.
photo editing company, Photo Editing Services, professional photo editing services