November 7, 2020 | No Comments
The theme or ideas of wedding photography has changed a lot in the last decade. Wedding photoshoots are in high demand now more than ever. And you should add new strategies to get a better place in the industry. Here this article will help you to find some ultimate tips for the best professional wedding photos.
A wedding is a precious moment for everyone's life, so have to capture every second memorably. If you are a wedding photographer, you are responsible to do this work effectively. Here are some basic tips for a wedding photoshoot
Do a study of the wedding plan.
Learn about the couples
Create a schedule for photos based on the couple's plan.
Stay in contact with the wedding coordinator/event management.
Have a list of photoshoots.
Learn about the location so it will be easy for lighting adjustments and background settings.
What Is Wedding Photography?
For the first, you have to understand what makes shooting a wedding ceremony challenging. It is a very stressful task for photographers. Because accidentally deleting photographs from your hand or losing the memory card can be a big problem.
Saying that, if you are a wedding photographer with great knowledge, you are a superhero. Here you will get only one chance for each moment shoot. So have to be very clever to capture those without any missing.
Like many other photographers, you can make a wedding photography contract in advance. This agreement should include the total number of photos your clients will get after the shoot.
Wedding Photography Tips
Hope the below tips will encourage you to take some interesting and adorable wedding photos.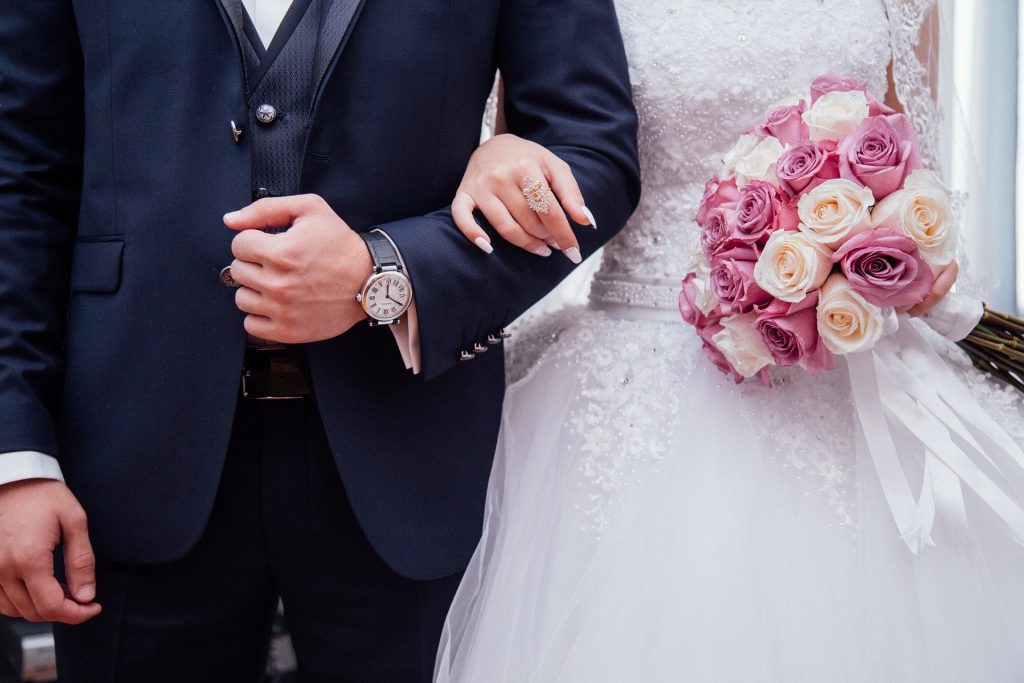 1. Test Your Camera In Advance.
For indoor and outdoor shoots you have to change the lighting adjustment all. So before starting for the wedding photography shoots you can just check the camera outputs and all.
2. Packing Accessories.
As a professional wedding photographer, making excuses for your crashes doesn't seem good. So first you have to prepare a list of accessories for the particular wedding work. Pack everything a day in advance and re-check before leaving.
If you can, bring a laptop also to manage the back of pictures in real-time.

3. Ask Someone To Assist.
Anyway, you can't manage all your accessories alone while shooting. So you need a good assistance to take the best wedding photoshoots. Also, the person can help you with lighting adjustments and background settings. Based on the project budget you can choose the person to assist you.
4. Pre-plan The Shoot

Pre-plan the wedding photography shoot is just as great as the shoot itself. Make some extra time for this work and you have to schedule the time for the bride and groom photoshoot. Choose the locations for a perfect couple of photos.
5. Know Your Clients.
Getting great photos is purely dependent on your client mentality. So, make a study about your client and their comfortability for the shoot. There you have to provide some extra instruction to capture the best wedding photos. Also, you have to be patient with the newlyweds. The more you interact with them, they will enjoy the experience.
6. First Captures.
Wedding photography is the most beautiful moment and the couple wants good memories from it. For professional wedding photos you can include the moments of their first kiss, first dance, and first look. Plan the time for each shot, and make sure that you have taken the most beautiful one.
Try different angles poss for the first moments, for example, the entry of the couple you can shoot in multiple points.
7. Shoot The Perfect Reactions.
Here you can shoot the perfect moments of the wedding ceremony. If you notice guests and friends having any fun or dance you can add that also into the album. Candid shots are more beautiful than normal clicks. Those expressions of the relatives, family, and friends show their blessing towards the cousins.
To understand the guests, you can discuss the guest list and chart them on a VIP basis. Ask about the special guests for the priority portraits.
8. Look For Smiles.
Where there is a smile, that's the worthiest shot. To take these pictures you can focus on kids, friends groups, and grandparent's reactions. These moments are not created one, because needed originality. So you can ask your assistant to check these moments in the surroundings.
9.Edit With Good Efforts.
Once you have taken all the photos it is needed some editing work for the final result. If online sources are not enough, you can go for the best outsource photo editing companies.
Conclusion.
That's a lot of ideas for beginners! Hopefully, this article is helped you to think about your upcoming wedding photo shoot plans. In the comment section please note your valuable advice for the industry newcomers.
photo shoot ideas, wedding photo editing services, wedding photo shoot ideas, wedding photographers, wedding photography, wedding photography tips, wedding photoshoots, wedding picture editing services