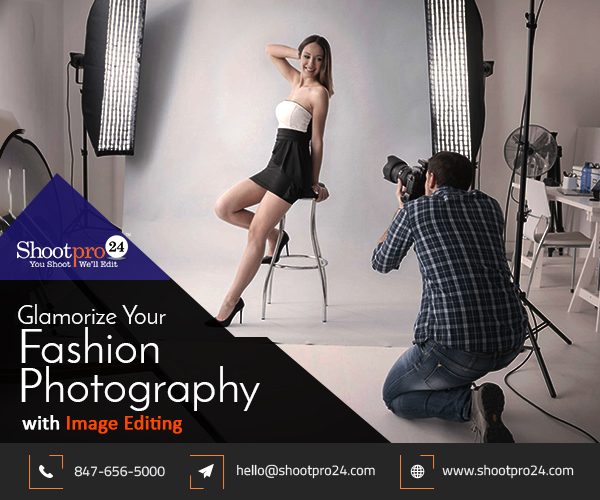 Fashion photography is all about clicking vibrant, flawless, and dramatic pictures. If you are a fashion photographer, you must know the challenge of taking that perfect shot. This genre of photography is extremely sought after among the millenials. The reason being, the world of fashion is full of glamour that most people find exciting and interesting. No matter how fun and interesting the profession looks on the surface, the competition is extreme within.
Are you a fresher in this career drive? Of course, you need to hone your skills and work extremely hard to make a mark in this profession. However, there are times when only smart work can come to your rescue. For this reason, hiring image editing services can reduce your hassle and give you ample scope for core skill development. At a time, when picture quality alone can either make or break a business, you should not assume all responsibilities to invite risks. Keep reading below to understand the benefits of professional editing.
Benefits of engaging professional editor for post-production services
1. Competent skills
Working with multiple software, a professional editor knows his job the best. No matter what your editing requirement is, the expert can meet it with his or her proficiency. This is why you can stay assured of quality service all throughout the process.
2. Customized work
More often than not, professional photo editing services are customized to match your goals. From street fashion photographs to editorial pictures for magazines, the experts in image editing services understand the nuanced needs of each of these styles and deliver accordingly.
3. Helps you stick to deadline
Do you waste a lot of time on learning and practicing editing skills? Chuck the hassle by hiring an editor. By doing so, you can complete your project on time, adhere to the fixed turnaround time, and of course, deliver high-quality images to your clients.
Given below the services provided by photo editors
1. Photo retouching
Among hundreds of shots, a few of them can turn out to be blurred or distorted. However, professional photo editing services can weed out the imperfections by applying photo retouching techniques. Whether you want a basic retouch or a high-end one, this is for you to decide. From skin smoothening to teeth whitening, your fashion photographs shall ooze only glamour and perfection.
2. Color correction
Not all pictures have the right concentration of light. While some pictures come out too dark, others look too bright for our eyes. However, this can be fixed with advanced color correction services. The professionals balance the contrast, saturation, and brightness to liven up the pictures. Only experts in image editing services can pull the right trick to make your pictures look brighter and more appealing.
3. Cropping
In order to increase the focus on the subject of a picture, it becomes necessary to crop out the unwanted backdrop. When you hire a full-time editor, you are saved from the hassle of analyzing each picture and crop background accordingly.
Conclusion
By outsourcing image editing services, you can channelize your skill and time in the pursuit of photography, your core profession. So, are you now convinced to hire an editing service? For top-quality, secure, and affordable services, get in touch with Shootpro24. Contact – +1 847-656-5000 & hello@shootpro24.com.