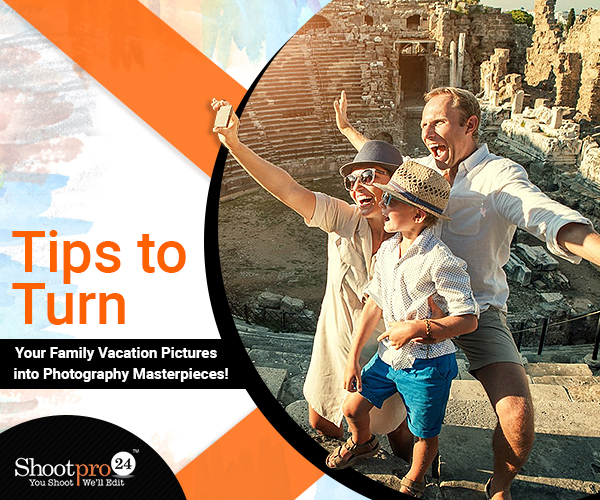 To break-free from the stress of our monotonous lives, we can always plan trips with friends and family. You do not think so? Remember, embarking on a trip can give you a much-needed break and help you regain focus on life. So, why do you not plan a family vacation this holiday season? Sounds great, right? You might also want to keep your DSLR handy to capture all the beautiful memories you make with your loved ones during the holiday. When it comes to editing or photo album arrangement, you can save yourself from that extra workload by hiring professional photo editing services. In order to enlighten you on the family vacation photography, we have hand-picked a list of tips.
By following a few tips, you can click some terrific story-telling holiday pictures.
1. Keep the camera ready- It would be great if you could keep the camera next to you for these few days during the trip. By doing so, you shall never miss capturing the flying gulls and fuller water waves. For anything still, you can set up the aperture priority. However, the shutter priority would work great for dynamic movements. All in all, it is suggested that you set up your camera correctly before going on the click spree. For minor to major correction, you can always hire any of the leading photo editing services in the USA.
2. Stay real with candid- Could you deny the timeless appeal of candid shots? If you want to click some unadulterated moments of happiness, you have to put in a little more effort to capture candid photos. With creativity and a perfect camera, you sure can get amazeballs images. However, you do not have to stress about the incorrectness in the clicked images as it is super easy to get such pictures rectified by photo editing services. They provide a variety of picture upgrades including corporate event photo editing services.
3. Do some researches- Running out of photography ideas? With some online researches, you can stumble upon a myriad of ideas along with inspiration. Browsing great photography sites will brush up your thoughts and picture-clicking skills. It does not stop here for online navigation can help you get connected with any of the potential family vacation photo editing services that you might need for post-production photo processing.
4. The balance between crops and backgrounds- A vast background is not desirable in every picture. To focus better on the subject, you can easily crop the peeping of backgrounds. On the other hand, there are some pictures that are all about enchanting backdrop views and vast horizon. After you have understood the value-adding capability of the background, you can either decide to zoom in or out with the camera lens. Do you want your old pictures to get cropped? Then, contact the photo editing services that have expertise in the photo manipulation process.
5. Maintain the variety- Do you not want your photo album to boast of a melange of pictures? Not only will it reflect your eye for diversity, but will also store a multitude of memories in one place. From sunsets, sea waves, green valleys and blue sky to the family group pictures, candid shots, and portrait images, your photo album can be enriched with an array of pictures. Should you need an expert to arrange your picture album, feel free to engage one of the first-rate photo editing services.
Conclusion- What is a family vacation without sheer fun and enjoyment? By clicking a ton of fabulous pictures, you can prevent memories from fading away. To lend perfectness and prettiness to those images, feel no hesitation to avail the photo editing services in the USA.