June 24, 2019 | No Comments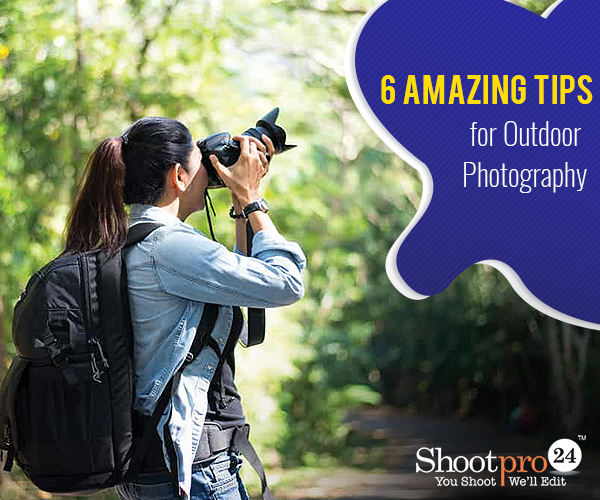 Is outdoor photography your passion? Then, we understand how finicky you can get to capture that perfectness of the setting sun, green valleys, and blue ocean. With the requisite skill and a top-notch camera, you shall always be successful in getting excellent outdoor shots. You may be a proficient photographer but there can be bad days when you cannot give your best. After all, human errors are inevitable and natural. Every problem has a solution, so does yours. By hiring the photo editing services of professional photo editors, fixing the flaws in your outdoor shots will not be a distant dream anymore. In this write-up, you shall find some essential tips to complement your photography skills and click amazing outdoor views.
1. Focus on the most appealing part- When clicking a picture, you must try to understand the most appealing part of the overall scenery. By keeping your camera lenses focused on the center of attraction, you communicate the essence of it directly to the viewers of the picture. Your creativity shall come into the forefront of the process. Do not hesitate to avail photo color correction services for some changes since you are not the only one seeking the help of experts.
2. Do not miss golden hours- Professional photographers and photo editors agree that there is the golden hour or the perfect time to click certain outdoor pictures. For example, if you want to capture a setting sun, you cannot set out at any abrupt moment with a camera in hand. So, be patient for the golden time to arrive. When the weather cooperates and the natural lights turn to be your ally, you must understand the time is ripe for some cool outdoor shots. To sharpen the images, you can always hire photo editing services.
3. Lights to capture texture and color- Should you want to capture the color and texture of outdoor sceneries as they are, you have to select the correct lights. For instance, sidelight does full justice to the landscape textures, whereas, the backlight brings out autumn landscape features the best. Therefore, the choice of light is extremely crucial when it comes to clicking the peak of natural beauty. You can as well avail professional photo editing services to enhance the hues and appeal of pictures.
4. A polarizing filter is a must- For landscape photography, a polarizing filter is a must-have tool for you. You need it to keep out the unwanted light reflections while clicking perfect pictures. By balancing out the contrast and color saturation, a polarizing filter helps you get the shot that you have always dreamt of clicking. Are you wondering if the DSLR pictures can be sent for photo editing services? Yes, of course. For sorting, color correcting and cropping pictures, you can hire photo editors on any day.
5. Tilt Shift Technique- Urban landscapes are very much a part of outdoor photography and to complement their charm you have to use a unique style, called Tilt Shift Technique. With the use of this, you can draw the viewers' attention to the central piece by blurring the peripheral views. Isn't it fascinating? If you have not tried it out as yet, this moment is the right time to explore. For further editing of the images, you might want to get in touch with professional photo editors.
Conclusion- Outdoor photography can be fun and exciting. The knack for details will let you view the world in a unique way. By following our tips, you can be a total pro at this genre of photography. If you cannot get good shots some days, do not lose your heart. All you have to do is to avail the photo editing services to fix the errors.
photo color correction services, photo editing, Photo Editing Services, photo editors, professional photo editing services